Blue Sky Recreation Limited. Freephone: 0800 069 9601, Freefax: 0800 069 9602, Email: info@blueskyholdings.co.uk
Pennine Apollo
The Apollo was produced for a five year period, from 1998 to 2003.

It was the second smallest model Pennine produced, being a slightly larger and better equiped version of the entry level Aztec.

Like the Aztec, it featured a basic kitchen, with two burner hob and grill, sink, with cold water fed faucet, and plenty of storage. Also, like the Aztec, the Apollo features two comfortable double beds, one of which makes up to a good sized settee, when not in use.

Unlike the the Aztec, the Apollo also features a couple of under under seat storage lockers and a second, bench style seat.
The rear entry Apollo offered true 4 berth potential, with 2 of those berths being permanently made up (both on site, and in transit) so a perfect layout for 2 people, but suitable for 4, at a push. Another popular configuration is to leave the two berths permanently made up, for 4 berth accommodation, whilst living in the attached awning.
Setting Up The Apollo
The Apollo Trailer
(1) Remove The Transit Cover
(2) Open Out First Bed
(2) Open Out Second Bed
(3) Roll Down Canvas Sides
(5) Push Up All Poles To First Notch
(6) Attach Canvas With Velcro Strips & Bungee Cord & Extend Poles To fully Tension Canvas
(4) Join Apex Poles
(7) Lower Corner Steadies
(8) Set Up Interior (Sequence May Vary)
Interior Layout Of The Apollo
Lift, Kitchen Unit Into Place On Cupboards
Twist And Lock Kitchen Leg Support
Connect Gas Supply & Cold Water Feed
Connect Waste Pipe & 12V Supply
Clip Shields Into Place On Kitchen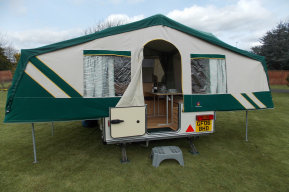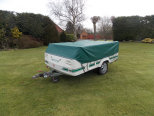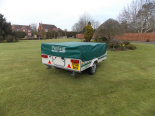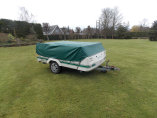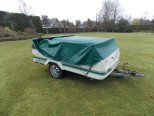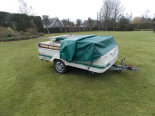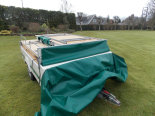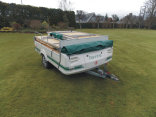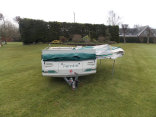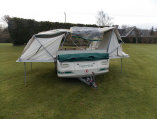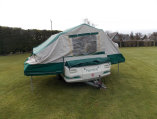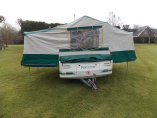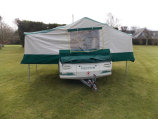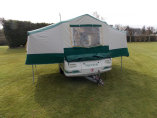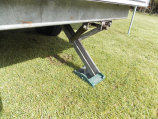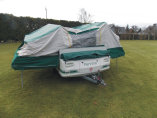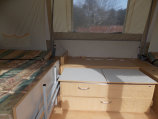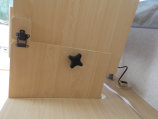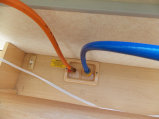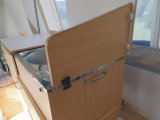 (9) Set Up Pen Vent System
(10) Connect Fresh & Waste Water Containers, Gas & Electric Hookup
(11) The Break Starts Here
For more pictures of this, and other projects we have been working on, why not take a look at the
Gallery Page
, to get a feel for how the campers look when set up and in use..
This sequence is intended only as a guide, both for new purchasers, or those thinking of buying, and wanting to know exactly what is involved in setting up their new camper. It is neither a definitive guide, nor a rigid procedure, and the order may vary, according to personal preferences. Also, certain items may be optional extras (as the wardrobe is on many models) and may not be included in your own camper.
View From The Settee To The King Size Bed
Opposite View From The Bed To The Settee
Table Laid For Dinner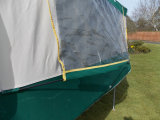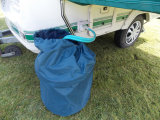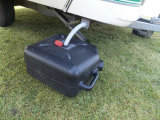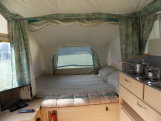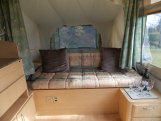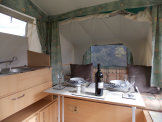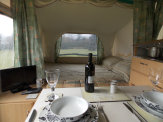 Dining In Style