Blue Sky Recreation Limited. Freephone: 0800 069 9601, Freefax: 0800 069 9602, Email: info@blueskyholdings.co.uk
About Blue Sky
Blue Sky started with the simple refurbishment of a single 1996 Pennine Aztec. Bought for £360, on eBay, she was lovingly restored, and sold, again, on eBay, for £800. The profit on that project? £44 (It was all done for the love of it, at the time). The Aztec was the entry level model, and, as such, was always likely to be bought by first time campers. So, to make their experience as pleasant and simple as possible, she was kitted out with everything you could possibly need to get started, from all the basic equipment (gas bottles, electric hookup lead, fire extinguisher, waste and fresh water containers etc) to the extra little touches (brand new crockery, cutlery, saucepans, chopping board, drainer / storage rack, scissors, even down to mini sewing and first aid kits).
A simple 10 day advert was placed on ebay, and the camper was sold within 3 days to someone who 'fell in love' with her and asked for the auction to be stopped. Totally unexpectedly, this upset a number of people, who were watching the camper, with a view to buying her, and, within a couple of days we found ourselves looking for similar items for another 4 customers.
Then came the next hurdle; it's all very well buying lots of 2nd hand campers, but entirely pointless, if you're unable to source the parts to refurbish them. Ok. If the mountain wont come to Muhammed.........
Second hand parts are expensive, and difficult to come by. New parts are even more difficult to acquire, and prohibitively expensive. Only one option then; make our own. At this point, Blue Sky entered Phase 2, going from basic refurbishment of the odd camper to design, manufacture and sale of bespoke Pennine parts and accessories, including Pen Vent systems, bound edge carpet sets, curtain sets, roof liners and cushions, all of which can be used both in the refurbishment of our own projects, and in retail sales to end users wishing to work on their own Pennine campers.

What, also, quickly became apparent was the, not only were there very few parts available, for older models, but there was, also, very little historic information available. Pennine, themselves, had just undergone a management buyout, and were rationalising their operation, which only left them time and resources to support current models. Unfortunately, the Pennine Owners Club is marginally less use than a chocolate tea pot, when it comes to supporting enthusiasts with information of this nature, so, in May of 2014, the Blue Sky blog; Blue Sky Thinking was established, followed, a month later, by this web site. The aim of both was to provide as much information as possible, both model specific, and general camping information and advice.

Both continued to grow over the course of the next four months or so, and, in October 2014, work commenced on The Folding Camper & Trailer Tent Definitive Guide. The aim of this guide is to provide a central point of reference for all folding camper and trailer tent models ever seen in the UK marketplace, regardless of country of origin. For each model, we aim to provide full specifications, brochures, manuals and other literature, images and videos in one central location. This is, of course, a work in progress, and is likely to continue for a number of years.

We now work, extensively, with the Conway Owners Club, with a mutual exchange of information, in order to provide as much assistance as possible to their members, and other enthusiasts, alike. In the absence of any valuable contribution from the Pennine Owners Club, we now deal, directly with Pennine, themselves, in order to promote the brand and to compile as much useful information and documentation as possible, the majority of which is, currently, included on our Media And Downloads page.

In February 2016, Blue Sky published; The Folding Camper Ultimate Guide, a 140 page introduction to the world of folding campers, from what the available options are, to what to look for in a second hand model and what to do if your new pride and joy turns out to be not as described, once you get it home. It covers the day to day practicalities, such as storing a camper, waterproofing it (or not) and what to take with you on your first trip, as well as the legalities, such as what we are allowed to tow, when we need to change our tyres, and whether or not we need to take out separate insurance on our new acquisition.

This guide, basically, takes all of the most important information and advice on our web site and blog, and combines it in one concise, but comprehensive publication, that should give the user answer to pretty much every question they are likely to ask. Again, the desire, here, is for this to be a central point of ongoing reference, and will be subject to change, and improvement, as time goes on.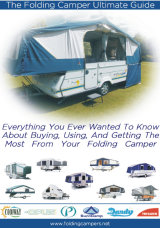 To view and download our 143 page Ultimate Guide, free of charge, Click on the image here