Blue Sky Recreation Limited. Freephone: 0800 069 9601, Freefax: 0800 069 9602, Email: info@blueskyholdings.co.uk
Pennine Aztec
In production from 1980 to 1999, the Aztec was the baby of the family, and still represents an excellent introduction to the world of the folding camper.
With a significantly smaller footprint than the other models in the range it still constitutes a major step up from traditional tents and trailer tents, with two double beds (one kingsize, and the other a double, which also converts to a settee) decent storage and a 'proper' kitchen, with gas, two burner hob, and sink with foot pump fed cold water faucet. All of this is contained within a diminutive trailer, which is easily manouvered by one person, and fits into the smallest of garages, with plenty of room to spare.
The optional awning doubles the available living space, for longer excursions.
The Aztec can be set up in around 10 minutes, with the awning taking, on average, a further half an hour, making it the ideal choice for both a weekend break and a longer holiday. The accomodation is comfortable, and surprisingly spacious, although, being an entry level model, it does lack some of the 'luxuries' such as fridge, wardrobe etc, and many are not equiped with 240V hookup or 12V system / leisure battery. That said, the raised beds, comfortable seating and proper onboard kitchen position it a world away from most 'normal' tents.
Setting Up The Aztec
The Aztec Trailer
(1) Remove Transit Cover
(2) Open Out First Bed
(3) Open Out Second Bed
(4) Roll Down Canvas Sides
(5) Push Up All Poles To First Notch
(7) Attach Canvas With Velcro Strips & Bungee Cord & Extend Poles To Fully Tension Canvas
(6) Join Apex Poles
(8) Lower Corner Steadies
(9) Set Up Interior
Interior Layout Of The Aztec
Hang All Curtains
Pivot Kitchen Unit Up Onto Cupboards
Open Out Kitchen Unit
Basic Bed Layout (Standard Double)
Set Up Settee From Double Bed
(10) Set Up Pen-Vent System
(11) Connect Fresh And Waste Water Containers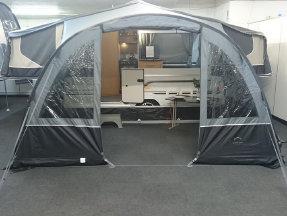 (12) Put The Kettle On (Or Crack Open A Cold One) Relax, Enjoy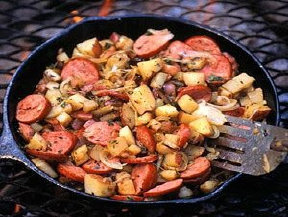 View From The Settee To The King Size Bed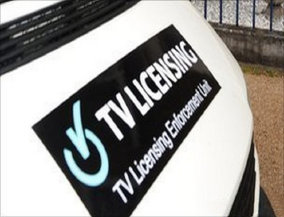 Opposite View To Settee From Bed
Folding Table In Situ
Folding Table Stored For Transit / Extra space
This sequence is intended only as a guide, both for new purchasers, or those thinking of buying, and wanting to know exactly what is involved in setting up their new camper. It is neither a definitive guide, nor a rigid procedure, and the order may vary, according to personal preferences. Also, certain items may be optional extras (as the wardrobe is on many models) and may not be included in your own camper.