Folding Camper & Trailer Tent Definitive Guide
Travelling / Stored:
Trailer Tent (Current Model)
Berths:
Setup / On Site:
Width
Height
Length
Width
Awning Size
Gross Weight
Wheel Size
Tyre Size
Tyre Pressure
Paperwork
Gallery:
Four (Plus four in optional under bed pods).
Blue Sky Recreation Limited. Freephone: 0800 069 9601, Freefax: 0800 069 9602, Email: info@blueskyholdings.co.uk
320cm
140cm
110cm
575cm
390cm
390cm x 315cm
350kg
650kg
10"
500 x 10
Model Summary:

Unit Type:
Model Summary: Trigano Galleon
Additional Images (Click To Enlarge)
The Galleon is a large, traditional style, trailer tent with an awning depth of over three metres.
In line with the genre, the Galleon sleeps four adults, in two, comfortable, double beds, with central space between them. Further sleeping / storage space is available, under the beds, to bring this up to an eight berth model, if required. The main trailer area can be set up in around three minutes, with the awning, typically, taking another thirty minutes to an hour, with pegging out etc.
The Galleon is available with or without brakes, and with or without kitchen. A zip in awning groundsheet, sun canopy and under bed tent are all optional extras.
The latest Sales Brochure is included in the Paperwork section above, as is a copy of the Galleon Instruction Manual and awning Pole Schematic.
Trigano Galleon
Assembly Video
375kg With Kitchen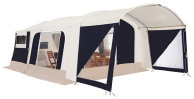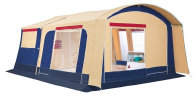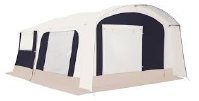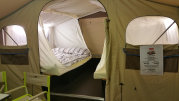 Trigano Galleon
Walk Through Video