Folding Camper & Trailer Tent Definitive Guide
Model Summary: Trigano Olympe
Travelling / Stored:
Trailer Tent (Current Model)
Berths:
Setup / On Site:
Width
Height
Length
Width
Awning Size
Gross Weight
Wheel Size
Tyre Size
Tyre Pressure
Paperwork
Gallery:
Blue Sky Recreation Limited. Freephone: 0800 069 9601, Freefax: 0800 069 9602, Email: info@blueskyholdings.co.uk
383cm (with kitchen)
Model Summary:

Unit Type:
Six (Up to twelve with under bed pods & optional annex)
346cm
162cm
105cm
485cm
530cm
250cm x 530cm
455kg
13"
650kg
135 R13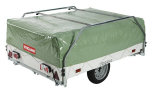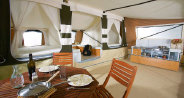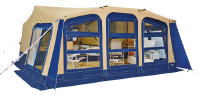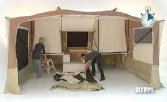 Additional Images (Click To Enlarge)
Trigano Olympe
Assembly Video
The Olympe is something quite unique within the genre. It features a conventional pram hood stlye canvas, which is known for its speed of erection, but not, normally, for its spacious accommodation. Unlike other comparable models, the Olympe features approximately 26 square metres of internal area, and accommodation for up to 12 people (6 adults and 6 children).
The trailer, in this model opens out to form two large double beds, with a large central area that can either be used as a seating / storage area, or made up to a third double bed. The two under bed compartments and optional awning annex offer accommodation for six additional children, bringing the number of berths up to an unprecedented 12.
The best way to get an idea as to the size and features of the Olympe is to see it in action. Take a look at the Trigano Olympe Assembly Video below.
Retail prices will vary slightly, but are, currently, in the region of £5,600 for the STD version, without kitchen, and £6,100 for the GL version, including kitchen. The images below represent the new 2015 colour scheme.
495kg (with kitchen)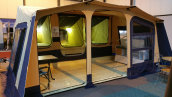 Trigano Olympe
Walk Through Video