Folding Camper & Trailer Tent Definitive Guide
Travelling / Stored:
Trailer Tent (Current Model)
Berths:
Setup / On Site:
Width
Height
Length
Width
Awning Size
Gross Weight
Wheel Size
Tyre Size
Tyre Pressure
Paperwork
Gallery:
Four (Plus Two in optional under bed pod).
Blue Sky Recreation Limited. Freephone: 0800 069 9601, Freefax: 0800 069 9602, Email: info@blueskyholdings.co.uk
260cm
162cm
105cm
485cm
390cm
390cm x 250cm
365kg
650kg
13"
135 x 13
Model Summary:

Unit Type:
Model Summary: Trigano Odyssee
Additional Images (Click To Enlarge)
The Odyssee is a pram hood style, trailer tent with a the quick setup time associated with the genre.
The unit sleeps four adults, in two, comfortable, slatted, double beds, with a further bed pod below one of them. An additonal awning annex is available, to bring this up to an eight berth model, if required.
The Odyssee is fitted with over run brakes, as standard, and comes with a well appointed kitchen, including three burner hob, with optional wheels, for added convenience. A zip in awning groundsheet, awning annex and under bed tent are all optional extras.
The latest Sales Brochure is included in the Paperwork section above, as is a copy of the Odyssee Instruction Manual and awning Pole Schematic.
Trigano Odyssee
Assembly Video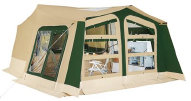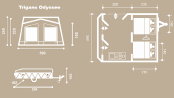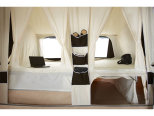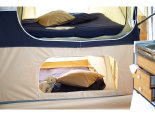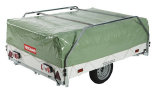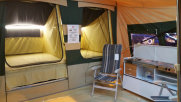 Trigano Odyssee
Walk Through Video