Folding Camper & Trailer Tent Definitive Guide
Travelling / Stored:
Trailer Tent (Current Model)
Berths:
Setup / On Site:
Width
Height
Length
Width
Awning Size
Gross Weight
Wheel Size
Tyre Size
Tyre Pressure
Paperwork
Gallery:
Two (Four with rear annex)
Blue Sky Recreation Limited. Freephone: 0800 069 9601, Freefax: 0800 069 9602, Email: info@blueskyholdings.co.uk
435cm
171cm
105cm
460kg
695kg
13"
165/70 R13
Model Summary:

Unit Type:
Model Summary: Trigano Alpha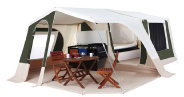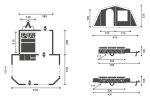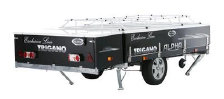 Additional Images (Click To Enlarge)





The Alpha is designed to be a luxury two berth folding camper, featuring large, slatted bed base, kitchen and spacious accommodation for a couple. There is only the one double bed, in this model, however, a further rear annex can be added, to offer an additional two berth room, as well as a further bedroom extension off the main awning.
The Alpha has a very well appointed kitchen for a two berth and a good level of under bed storage. Setup time is a matter of minutes for the main bed / living area, but with the option to double the accommodation, if required, with the addition of the large awning.
The latest Sales Brochure is included in the Paperwork section above, as is a copy of the Alpha Instruction Manual and awning Pole Schematic.
Trigano Alpha
Assembly Video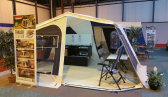 Trigano Alpha
Walk Through Video