Blue Sky Recreation Limited. Freephone: 0800 069 9601, Freefax: 0800 069 9602, Email: info@blueskyholdings.co.uk
Folding Camper & Trailer Tent Definitive Guide
Model Summary: Raclet Panama Up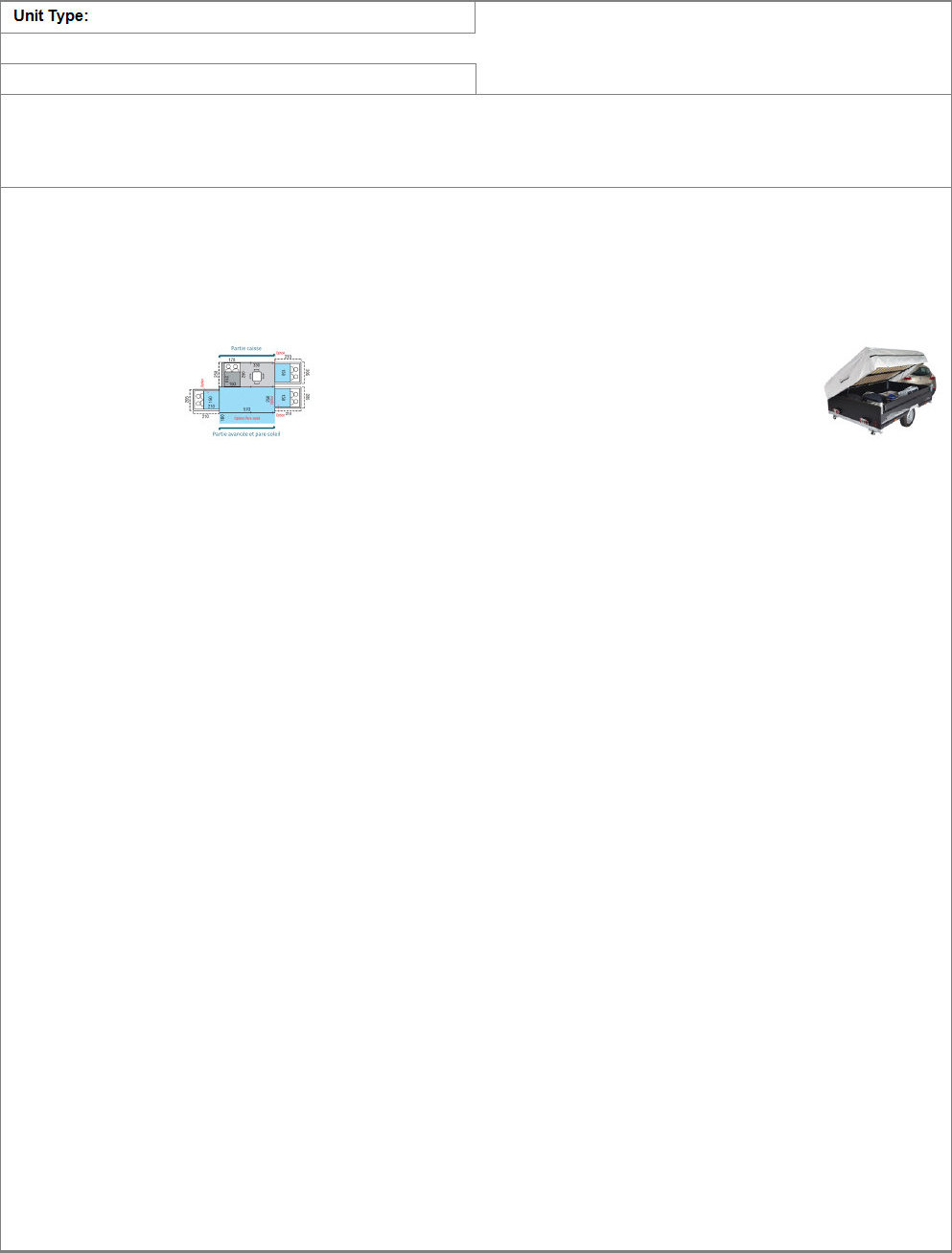 Model Summary:
Travelling / Stored:
Panama-Up is an itinerant model with an amazingly simple opening system, in just a single movement.
You take the lid by the handle, make it swivel to the ground, and thatís all ! The sun canopy will be ideal for a short stay, it also requires very little time to erect thanks to its 3 pegging points. The new system of transit cover that can be opened with a zip will allow you to load and unload your luggage without opening the whole trailer tent. This can be particularity handy during short breaks.
The mechanism is very similar in design to the Solena, but on a larger scale, and takes 5 - 10 minutes to set up, with its pram style opening, however, unlike the Solena, it does not have a solid floor to the main living area.
The wide bed (150x210cm) has a slatted base that can easily be opened to offer a large storage area with an electrical plug (for the model with kitchen only). With its slatted bed, Panama-Up is the most comfortable model of the range the cotton tent keeps the temperature consistent and will give you good ventilation when the weather is a litle warmer The bedroom window has a clear plastic flap, a mosquito net and a tinted flap.
An optional awning can be added to the front of the Panama-Up for an extra area of 6m≤. Two bedroom annexes can be added on both sides for 4 extra persons.

Berths:
Setup / On Site:
Width
Height
Length
Width
Awning Size
360cm
170cm
95cm
250cm
500cm
570cm x 250cm
Gross Weight
Wheel Size
Tyre Size
Tyre Pressure
495kg
13"
165/70 R13
Paperwork

Gallery:
Trailer Tent (Current Model)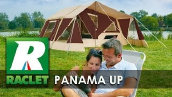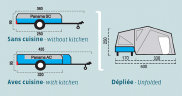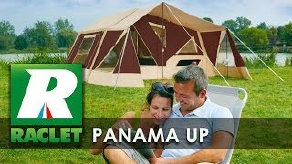 Click on the image to the right, to view the Panama Setup Demonstration Video.
360kg
(420kg with kitchen)
Two (Plus up to six in optional awning annexes).