Blue Sky Recreation Limited. Freephone: 0800 069 9601, Freefax: 0800 069 9602, Email: info@blueskyholdings.co.uk
Folding Camper & Trailer Tent Definitive Guide
Manufacturer Summary: Conway
Chester Street
Accrington
Lancashire
BB5 0SD
01254 386978
Pennine Outdoor Leisure Limited
Company Synopsis:
sales@pennineoutdoorleisure.co.uk
www.pennineoutdoorleisure.co.uk
Conway are, probably, the best known of all trailer tent / folding camper manufacturers, and are, certainly, the most prolific, in terms of the number of models produced.

In spite of this (or, perhaps, because of it - it cannot have been economically viable to pour so much time, effort and money into product development, when so many of those models were in production for just a year or two) the original Conway company was taken over by the, then, Pennine Group, in November 2002.

Prior to that, it had, briefly, been owned by Conway supplier; Computerised Sheet Metal Limited, of Chorley, Lancs., who took the company over in March 2001, although this relationship lasted only around 18 months, before the trailer tent / folding camper business was sold on to Pennine. CSM, however, did retain the Conway premises and phone number, and they now have a department, which trades as; Conway Trailer Division. Their web site is www.conwaytrailers.com.

Pennine continued to run the company, effectively, as a separate entity, under the name Conway Leisure Products, until 2008, when the remaining Conway models were fully integrated into the Pennine family, and all sense of separate identity was lost, other than the name.

The name; Conway Leisure Products Limited was simply a trading name which is no longer used, and the company was dissolved in January 2015.

The original Conway company has now completely disappeared, but there is still a very active, and extremely helpful owners club for anyone who has queries apertaining to the older models.

Towards the end of its life, Conway entered into a partnership with Cabanon, of France, whereby, Cabanon manufactured all canvases on behalf of Conway, and Conway manufactured all trailer bases for Cabanon. For the last year prior to the company's demise, Cabanon were manufacturing all elements of the Conway trailer tents.

Operating in partnership was something that Conway had never shied away from. In the 1980's, they joined forces with American manufacturer; Jayco, to manufacture a range of hard top folding campers (something Jayco already had an excellent reputation for) including the Tardis and Laser models. Jayco manufactured the main body etc, and Conway mounted these onto the UK legal Alko chassis. They also adapted Jayco's own American models for UK distribution, by fitting over run brakes, UK legal rear lights and 110V transformers to operate the onboard electrics.

On cessation of the company, the business was, effectively, split three ways (four, if you include the trailers retained by CSM);

The majority of the remaining stock of parts was bought by Tent Valeting Services, of Bolton, who still sell a number of Conway parts, as well as repairing models for both end users and Pennine Outdoor Leisure, themselves.

The main trailer tent and folding camper side of the business was transferred to Pennine, however, the trailer tent side of the business was ceased almost immediately. There are many who believe, probably quite rightly, that this was a huge backward step, as it not only removed the budget trailer tents from the market, but, rather than combining the best of both worlds and retaining such items as the solid roof models and slide out beds (a lot easier for some than the fold over ones) Pennine simply integrated the models into their own range, making them little more than Pennine clones.

The third element of the business was the part operated by Cabanon of France. For some 6 years after Conway ceased, Cabanon continued to manufacture trailer tents under the Conway name. These post 2003 models are not considered, by many, to be 'true' Conways, and none of their details are shown on the Conway Owners Club website. The Conway Classic Trio is an example of an original model that was continued, post 2003, by Cabanon, whereas an example of a brand new model is the Conway Carnival, which was never, actually, produced by Conway, themselves.
Click on the link to the right to visit the Conway Owners Club web site.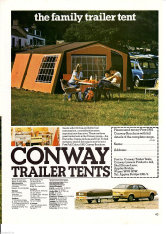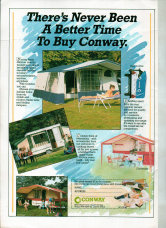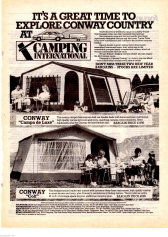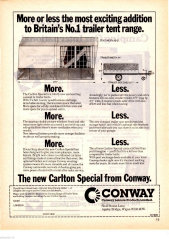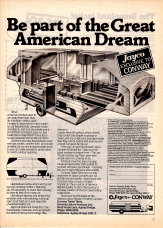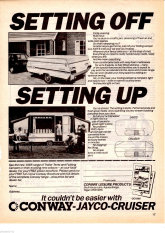 1981 General
Conway Advert
1980's General
Conway Advert
1980's Conway / Jayco Advert
1980's Camping International Conway Campa & Colt Advert
1980's Conway Carlton Advert
1985 Conway Jayco / Cruiser Advert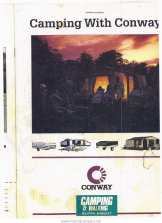 Camping & Walking Supplement
Many Conways were sold with a free magazine, the Camping & Walking Supplement.
This particular issue is from the early '90's, circa 1991.