Blue Sky Recreation Limited. Freephone: 0800 069 9601, Freefax: 0800 069 9602, Email: info@blueskyholdings.co.uk
Folding Camper & Trailer Tent Definitive Guide
Company Synopsis:
Manufacturer Summary: Holtkamper
Holtkamper Trailer Tents
Kapitein Nemostraat 5
7821 AB Emmen
The Netherlands
+31 591 66 89 66
sales@holtkamper.nl
www.holtkamper.co.uk
Holtkamper have been manufacturing tents since 1928, and have a reputation for innovation in product design. In 1983, the company set the World record for the quickest tent trailer; the Holtkamp flyer. With its 32 second setup time, including front awning, this tent remains the quickest, over 30 years later.
Holtkamper still manufacture a number of camping items, including awnings, camping kitchens and, of course, trailer tents. There are currently five models in the Holtkamper range. As you can see, they are somewhat innovative in design, and very distinctive, in much the same way as the Opus folding camper, in the UK.
As a further innovation, the company has created the Windforce system, whereby the trailer tent can be erected and folded away, totally automatically, using air pressure. Within two minutes, the groundsheet and tent are unfolded, and positioned in the correct location. The system can even be operated, by remote control, from within the car, and, is totally self contained, so rain cannot intrude into the tent, whilst being erected or taken down. Neither does it interfere with the luggage area, so the trailer can be loaded, and unloaded, at home, without having to unpack the tent.
To take a look at some of these innovations in action, and other aspects of the Holtkamper range, click on the link above.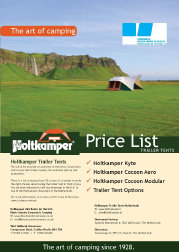 Click on the image to the right to download the latest 2016 Holtkamper Price List