Folding Camper & Trailer Tent Definitive Guide
Travelling / Stored:
Folding Camper (Current Model)
Berths:
Setup / On Site:
Width
Height
Length
Width
Awning Size
Gross Weight
Wheel Size
Tyre Size
Tyre Pressure
Paperwork
Gallery:
Four (Five, with single bed option for settees)
Blue Sky Recreation Limited. Freephone: 0800 069 9601, Freefax: 0800 069 9602, Email: info@blueskyholdings.co.uk
Model Summary:

Unit Type:
Model Summary: Opus Camper

Opus Review, 2013 NEC Show, By The Caravan Channel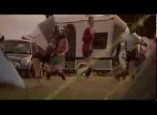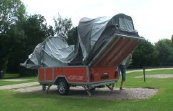 The Apprentice Series 9,
Episode 7
Opus Folding Camper 5 Step Setup Guide
Opus- The Why & The What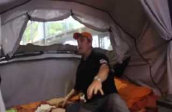 Opus Drifter Review, For Those Of You Thinking Of Off Roading
416cm
195cm
127cm
195cm
580cm
620cm x 240cm
(Inc Bed Pods)
800kg
1050kg
14"
175/65 R14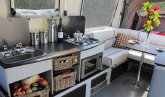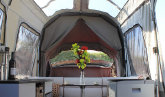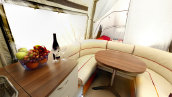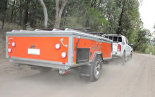 1. Fixed Double Bed Areas with Inner Privacy Tents. 2. Stainless Steel Sink with Glass Lid. 3. Work Surface With Drawer Unit

4. Two Burner Gas Hob with Piezo Ignition and Glass Lid. 5. Seating Area (with optional single bed). 6. Table (demountable). 7. Storage Locker (extra storage also under seating area). 8. Cabinet Mounted 3-way Refrigerator.
OPUS is a revolutionary folding camper. It is ultra-lightweight and extremely easy to tow, even with a small car. Its low profile allows for all round visibility, so you can hitch up and drive away with confidence. But donít let its stature fool you. It is strong, rugged and extremely clever. With two reinforced lids and a universal racking system OPUS is the perfect load-carrying platform. Carry boats, carry bikes, carry kayaks, carry kites, carry anything, carry everything and with the OPUS Moto you can even carry two Motorcycles.
As there is only one model in the Opus range, the company web site is dedicated, solely, to that product, so it is pointless repeating that in too much detail here. For more information on this innovative and stylish folding camper, take a look at the main Opus Web Site. In the meantime, there are a selection of interesting videos below, to give you a little more insight.
In addition to all the official information, there is a full review of the Opus Camper on our blog; Blue Sky Thinking. You can read the full model review here.: Opus Camper Model Review.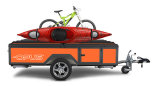 Opus Camper Videos