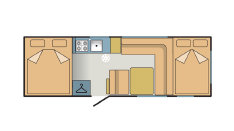 Blue Sky Recreation Limited. Freephone: 0800 069 9601, Freefax: 0800 069 9602, Email: info@blueskyholdings.co.uk
Folding Camper & Trailer Tent Definitive Guide
Model Summary: Pennine Quartz 4
Folding Camper (Current Model)
Four
Four
Dimensions:
Other Stats:
Weight (Ex Works)
Gross Weight
Payload
Wheel Size
Tyre Size
Tyre Pressure
Unit Type:
Berths (Standard):
Berths (Maximum):
Length (Inc Hitch)
Width
Height
Length
Width
Awning Size
Bed 1
Bed 2
Bed 3
Travelling / Stored:
Set Up / On Site:
Bed Sizes:
Weights:
Wheels / Tyres:
Other:
Model Summary:

Gallery (Click on Images To Enlarge):
Videos:
Paperwork:
The Quartz 4 was introduced in 2010, following the demise of the Pullman. It was a mid range model, pitched between the Fiesta (Then called the Quartz 2+2) and the Pennine Pathfinder (At the time, referred to as the Quartz 6).

The model only continued for a couple of years, and examples are rare, but it appears to have been built using the base and canvas of stable mate the Conway Cruiser, as the dimensions appear to be identical. The big difference with the Quartz 4 was in its internal layout, which had never been seen before in the Pennine range (or any other we are aware of) nor has it been utilised since.

The majority of the interior layout was the same as other models, such as the Pennine Sterling and Pullman, as well as the Conway Cruiser. The beds, kitchen and wardrobe are all the same, however, the opposing dinettes of other models were replaced with an L shaped settee and single dinette. This was a very practical layout, although it did come at the cost of one of the cupboard units, adjacent to the door. In order to compensate for this, a fold up table / work surface was situated on the back of the dinette seating.

Features of the Quartz 4 incuded alloy wheels, external gas BBQ point and king size front bed. It also benefited from a three burner hob, and the new phenolic coated birch plywood, reckoned to be stronger and more resistant to mildew than previous options. Additional features were available on the Quartz 4, included plinth heater, hot water, ambient floor lighting and TV aerial point.

Unfortunately, despite its innovative design, the Quartz 4 was short lived, and production ceased in 2011. Consequently, it only appeared in the sales literature of that year (See Sales Brochure below).
Max Headroom
Min Headroom
Other Specs.
See Brochure Below
417cm
212cm
139cm
212cm
535cm
560cm x 250cm
14"
740kg
900kg
175 x 14
160kg
198cm x 137cm
198cm x 122cm
N/A
Handbooks