Blue Sky Recreation Limited. Freephone: 0800 069 9601, Freefax: 0800 069 9602, Email: info@blueskyholdings.co.uk
Folding Camper & Trailer Tent Definitive Guide
Model Summary: Pennine Sovereign
Folding Camper (Current Model)
Six
Six
Dimensions:
Other Stats:
Weight (Ex Works)
Gross Weight
Payload
Wheel Size
Tyre Size
Tyre Pressure
Unit Type:
Berths (Standard):
Berths (Maximum):
Length (Inc Hitch)
Width
Height
Length
Width
Awning Size
Bed 1
Bed 2
Bed 3
Travelling / Stored:
Set Up / On Site:
Bed Sizes:
Weights:
Wheels / Tyres:
Other:
Model Summary:
Gallery (Click on Images To Enlarge):
Videos:
Paperwork:
35PSI
The Sovereign was only produced between 2001 and 2003, which is a shame, as it was an innovative camper, designed to bridge the gap between the mid range models, such as the Sterling and Pullman, and the top of the range Pathfinder.

The Pullman of the day was 417cm long, whereas the Pathfinder was 478cm. At 427cm total length, the Sovereign was a lot closer to the Pullman, in size, but with equipment levels more akin to the much larger Pathfinder. This, inevitably, led to certain compromises, particularly in the kitchen department, but, all in all, it's a formula that seemed to work extremely well.

The Sovereign had a cassette toilet, in its own compartment, between the kitchen and the king size bed, and directly opposite the wardrobe. This compartment was more akin to the modern day Fiesta, insofar as it was a small toilet compartment, which, unlike its larger sibling, the Pathfinder, didn't contain a wash basin, or hot and cold water supply. Because this compartment had been added to a camper that was just 10cm longer than the Pullman, the space had to come from somewhere, and the kitchen was the area in which the compromises were felt. Although the equipment levels were as good as all of the mid range models (sink, hob and fridge) the unit, itself, was shorter, which meant no work surface adjacent to the sink / cooker unit, and only one cupboard to the side of the three way fridge, rather than one either side of it. As indicated above, this is a similar kind of sacrifice to that of the modern Fiesta, in that a small toilet compartment has been introduced at the expense of useable kitchen work surface / storage space.

One really nice touch in the Sovereign was the dedicated changing area that could be created, using the toilet compartment wall & door. The wall pivoted across to meet the wardrobe, where it could be fixed in place, to create an enclosed changing / toilet area, containing the toilet, bed and wardrobe. A nice little touch for a little extra privacy.

Unfortunately, the Sovereign enjoyed only a brief production run, but they do still crop up, occassionally, on the second hand market. Ideal for anyone who likes the thought of an onboard toilet compartment, without the extra size of a Pathfinder, or the prohibitive costs of a newer Fiesta.
Max Headroom
Min Headroom
Other Specs.
See Brochures Below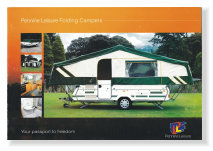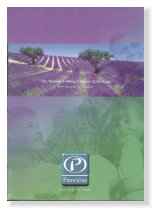 427cm
207cm
126cm
205cm
545cm
560cm x 250cm
13"
660kg
900kg
155 x 13
240kg
193cm x 137cm
193cm x 122cm
193cm x 122cm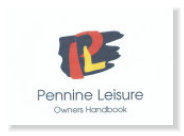 Handbooks