Blue Sky Recreation Limited. Freephone: 0800 069 9601, Freefax: 0800 069 9602, Email: info@blueskyholdings.co.uk
Folding Camper & Trailer Tent Definitive Guide
Model Summary: Pennine Alpine
Folding Camper (Discontinued Model)
Six
Six
Dimensions:
Other Stats:
Weight (Ex Works)
Gross Weight
Payload
Wheel Size
Tyre Size
Tyre Pressure
Unit Type:
Berths (Standard):
Berths (Maximum):
Length (Inc Hitch)
Width
Height
Length
Width
Awning Size
Bed 1
Bed 2
Bed 3
Travelling / Stored:
Set Up / On Site:
Bed Sizes:
Weights:
Wheels / Tyres:
Other:
Model Summary:
Gallery (Click on Images To Enlarge):
Videos:
Paperwork:
325cm
191cm
109cm
488cm
191cm
488cm x 198cm
369kg
611kg
10"
520 x 10, 4 Ply
30PSI
The Alpine was the model which started it all for Pennine, and the model on which many of the more recent 6 berth models were based. It had the same basic layout as the more recent Clubman, Sterling, Pullman and, to a lesser extent, the current Pathfinder models.

Produced between 1978 and 1981, the Alpine had a relatively short production time, which, combined with the fact that it ceased production well over 30 years ago means that there are very few around today.

Just like the subsequent models, the Alpine featured a door on the right hand side of the camper, with a cupboard on either side. Entering the camper, there is a double bed to the left, a kitchen unit ahead, and a lounge / dinette to the right, with a second double bed behind. As you can see in the eighth picture above, the dinette also made up into a third double bed, to provide six comfortable berths.

Optional extras, for this model, included under bed skirt for the rear bed, chest refridgerator, heater and awning.

It's clear to see where the later models got their inspiration, though, clearly, technology has moved on, somewhat, since then.

We would like to thank Pennine Outdoor Leisure Limited for the recent release of this original 1978 sales brochure into the public domain, from where the majority of the above specs have come.
242kg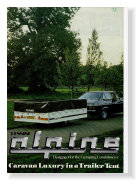 Max Headroom
Min Headroom
Other Specs.
203cm
180cm
See Brochure Below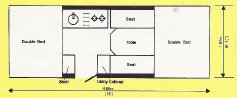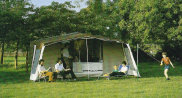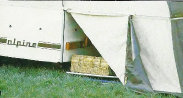 190cm x 122cm
190cm x 122cm
190cm x 122cm